MY SKINCARE STORY
I struggled with non-stop, full-face acne for years. So, I know personally how difficult it can be to feel at your best when your skin is at its worst. I sought out classes and mentorships with skincare experts who shaped my integrative approach to skincare and beauty.
Creating a place of healing and self-care has been a life-long passion for me. I was always fascinated by studying health and skincare for as long as I can remember.
I have worked in several select medical spas in the New England area, attended continuing education classes and training in advanced skincare. Worked as a skincare educator and trainer to perfect and master my skills.  Finally, I decided to create a space where I could provide holistic and results-driven skincare treatments in a peaceful and nurturing environment.  My desire was to help support and encourage self-care and beauty from the inside out.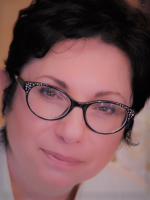 As a dermal therapist with more than twenty-five years of experience, my goal is to educate and coach clients on the importance of skincare as part of their daily health and wellness routine. It's more than skincare, it's beauty from within.
WHAT IS AN INTEGRATIVE SKIN HEALTH COACH?
"I use the term 'integrative skin coach' as my title because esthetician or facialist seemed to really restrict me from what I truly do. I coach and guide women beyond their skincare treatments to truly help transform their skin.
My in-depth consultation and health history analysis sets me apart.  I truly enjoy the on-going relationship with all of my clients. I make sure to know what they are using and how their skin is responding at every stage. From hormonal imbalances to major dietary overhaul, I continuously support and guide you towards finding your best skin health. I do this by giving you the power to be the expert on your own skin. Education is a big part of our process."
LOOKING AT HEALTH in an integrative way and understanding the deep interrelation between our emotions, food choices, hormones, lifestyle choices, and overall health is a revelation for some of us. In an age when nutrition, medicine, beauty, emotional health – and just about everything else – are compartmentalized into their own little boxes, it can be a real eye-opener to hear about the deep connections between the way we live, eat, feel and look.
Real beauty comes from within. Your skin says everything about the kind of lifestyle you lead and most skin problems originates internally – the body is one whole integrated system so what's going on inside our bodies will show up on our skin as well. When we become more aware of our bodies and our minds, a shift starts to occur. That feeling of inner health shows up externally on our face and skin.
As both an Integrative Health Coach AND Dermal Therapist with a Functional Medicine approach to skincare, I bring a unique, experienced and highly effective set of real solutions that encompass your entire being, including what lies below the surface, so you can FINALLY get lasting relief from:
I am a great believer in functional skincare and my mission is to help you on your journey to achieve health and wellness, as well as a vibrant appearance.
Love the skin you're in. Take charge of your health and beauty today with professional skincare and nutritional coaching. All of this and more is possible for you, but you must take that first step. Call or book online for a Skincare Coaching with me.